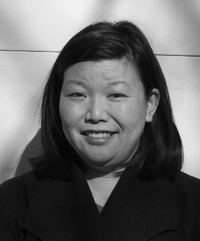 Lisa Hasegawa is Executive Director of the National Coalition for Asian Pacific American Community Development (National CAPACD), an organization that serves as a powerful voice for the unique community development needs of Asian American and Pacific Islander (AAPI) communities. National CAPACD also sets out to strengthen the capacity of community-based organizations to create neighborhoods of hope and opportunity by focusing on four key community development areas: affordable housing and economic development; community empowerment and neighborhood revitalization.
Hasegawa currently serves on the Boards of the National Low Income Housing Coalition, Asian Pacific Islander American VOTE and the Progressive Caucus Policy Foundation. She served as the Chair of the National Council for Asian Pacific Americans in 2006 and 2007 and continues to chair the NCAPA Housing, Community & Economic Justice Committee. She served on the first National Governing Board of the National Asian Pacific American Women's Forum, the only national multi-issue organization dedicated to building a movement to advance social justice and human rights for APA women and girls.
Prior to joining National CAPACD, Hasegawa was the Community Liaison for the White House Initiative on AAPIs where she was responsible for ensuring that AAPI community groups from across the country were involved and informed about Initiative activities. She also worked for the U.S. DHHS Health Resources and Services Administration and the Office of Minority Health. Previously, she worked at two community health centers serving low-income AAPIs in Los Angeles and Oakland.
A fourth generation Japanese American from California, Lisa is a graduate of UCLA and Harvard's School of Public Health.