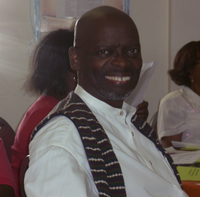 Dr. King, a graduate of UCLA, is a Professor of Psychiatry and Human Behavior at UCLA's Medical School. He also serves as Senior fellow at the National Center for Health Behavioral Change in Washington, DC; Senior Scholar at the Tom and Ethel Bradley Foundation; and Program Director for the Knotts Family and Parenting Institute. In addition to these roles, he's currently the Executive Director of the Fanon Research and Development Institute—which he founded. The Institute is the first major mental health research and development center of its kind in the U.S.
Dr. King's scholarly work over the past three decades has focused on how to overcome marginalization that leads to mental and physical illness, violence, underachievement and other negative behavior outcomes. In the area of nutrition and fitness, Dr. King served as the principal evaluator in a recently published joint study with CDC and USDA on nutrition and fitness among African American youth.
In prior professional leadership roles, Dr. King served as Associate Dean of the UCLA Medical School, Dean of Drew/UCLA Medical School and Vice President of Drew University.
A few of his other accomplishments include:
Designing and founding The Place of Family Substance Abuse Treatment Center in 1974-- this program based on a family model, is the oldest substance abuse treatment program in South Central Los Angeles.
Developing, in 1982, The National Cancer Consortium Center for Cancer prevention and Control that linked Morehouse, Meharry and Drew Medical Schools – the first such research center in the U.S. Two years later, he developed both the model and funding strategy for Research Centers for Minority Institutions (RCMI)-- a Congress-led initiative that funded 10 major national institutions to undertake health disparity research in the U.S.
Co-Founding the California Nutrition and Fitness Center (CANFit) in 1993, which addressed nutritional deficiency among low-income children.
An outstanding scholar and leader, Dr. King has developed model leadership programs in this country and beyond--many of which have been adopted. The Centers for Disease Control did just this with his model approach to Diabetes and AIDS prevention action in the African American community. He was also invited to South Africa by the Ford Foundation to design a culturally competent development model that addressed the issue of violence and public health.
Dr. King has received a number of honors and awards for his teaching, research and community development work. In a Los Angeles Times Magazine article, Dr. King has been described as "a passionate advocate … whose engaging personality and wit recall the bedside manner of an old-fashioned country doctor."